Crescent Drive-In
615 Piney Forest Rd. (alternate US 29 north), Danville, Va.
capacity: 540 cars
years of operation: 1948-78
currently: Piney Forest shopping center
The first in the Danville area, it debuted on Sept. 16, 1948 with the Warner Bros. comedy Love and Learn starring Jack Carson on its 37½'-by-50' screen. Carhop service was featured, with patrons ordering via intercom from their cars. Part of the Craver (later Consolidated) circuit. The owners built a go-kart track adjacent to the drive-in in 1960.
Below is part of a 1970 aerial photo showing the drive-in.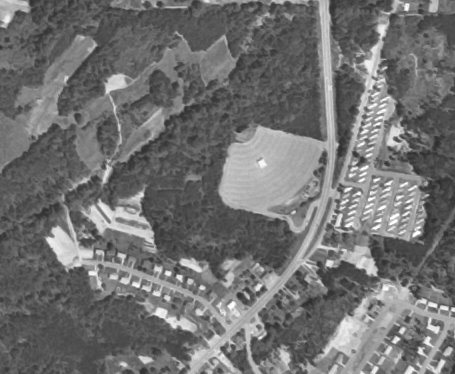 Got some additional information, or some pictures or stories about this drive-in
you'd like to share? Email me -- thanks!