Central Drive-In

location
5111 Kent Junction Rd. (business US 23 west), Norton, Va.
telephone
(276) 679-3761
** NOTE: NEW AREA CODE
year opened
1952
capacity
300+ cars
booking policy
double features
sound
AM/FM
other features
digital projection
admission
$8; children 4-11 $4; under 4 free
operating season
April-October
website
www.centraldrivein.com
The Central is among dozens of drive-ins nationwide in the running to receive one of five new digital projection systems, courtesy of Honda's Project Drive-In. Click here to vote online, or text Vote109 to 444999. Voting is open through September 21, 2013, and you may vote twice a day, once via Web and once via text.
---

Rate/comment on this drive-in
If you've been to the Central and would like to share your opinions, click here.

Average rating: 5.0 (16 votes)
"Awesome time, great movies and YUMMY food. Can't wait to go back. If u havent been here u are missing a wonderful place." 5 -- BRANDON STILT
"I first came here when I was only about 8 or 9 and it never gets old. I bring my kids now and we all love it." 5 -- Pjil
"The best place in the world to go!!! Best Friends, Best Place and most of all Best Food!! Been going since 1959!!!" 5 -- Sandy Day Thomas
"I love this place, reminds me of when I was a kid and went there... still love to go there to this day... always have awesome food and really nice staff." 5 -- ss
"Me and my son have always had a great time everytime we have been there. Kids have a hard time staying still, we can always get out and strech our feet or walk to the snack bar. Everybody that works there has always gone out of their way to help us. Would just like to thank buddy for everthing he does and would like to say keep up the good work." 5 -- david and ethan shuler
"We've been to this drive-in now a few times and have always had a great experience, we love it. It's so much better than your normal movie theater because you can relax in your own vehicle, adjust the sound to whatever level you like or just take a blanket and watch some great movies under the stars. One of the best things is you can bring whatever food and drinks you want instead of settling for whatever they have at the movie theater, you can bring your kids' favorites instead. 5 stars from us." 5 -- Eddie & Deanna Mullins
"Love this place!!! Awesome prices, wonderful people, and the feeling of stepping back into a simpler time when life was much more fun!!!" 5 -- Shelly Akers
"We love this drive-in... The staff is kind and courteous. They have good prices on their food and it is very good!!!! Where else can you go watch 2-3 movies a night for just $6.00 dollars for all. They show all the new movies as soon as they come out. For cheap family night this is the place to go!!!! " 5 -- Powers
"We go to Central on a regular basis, as well as the other 4 within our driving distance, and by far we love Central over all of them. People are courteous, food is always awesome, and movies are well-chosen.... I have got so many of my friends that we now have coming too... With things like they are I'm sure it'll soon be that a person will have to be there early to get in cause it's been one of the best kept secrets of the Appalachia's." 5 -- Craig Hamilton
"My family has been to the Central Drive-In numerous times this summer of 2011, we have enjoyed it deeply. We are from Oklahoma and my husband is here working and we both believe that every person should enjoy a 'Blast from the Past'. Our daughter is 9 yrs old and she said 'Mom I really rather go to the drive-in than go to a regular movie.' I so totally agree, just wish there was more drive-in's open. We did locate one not far from our home in Oklahoma that we already plan on going to when we go back, but until we do we will continue to visit Central Drive-In. Thank you so much for the kindness and sharing your establishment with our family." 5 -- Davenia
"Love going to the drive-in. Takes me back to my childhood and some great times from my teen years. Great food and fun. Love taking my daughter and making those memories with her that I made as a kid." 5 -- James
"This drive-in is great. We have a little girl and this is a great place to take her that she will remember for just a little money. We have seen several films there, even though we are in Pikeville, KY. Great snacks too. A really good experience every time that we go!" 5 -- Kev
"It is great!!" 5 -- Tori
"My husband and I like and include this drive-in when deciding our weekends even though we live in Blountville, TN. We've had many good (and a couple of odd) experiences there. One night a little, bitty boy came up to our car during a movie and asked if we'd give him money for a snack! I asked where his mother was and he pointed out a van nearby. I decided it would be better to tattle on him rather than risk him going up to another stranger who might have bad intentions. His parents were surprised (or at least seemed to be) and thanked me for being a decent person. In my 50+ years of drive-in attendance that was a first! My motto is 'Pick a drive-in first if it's showing anything we'd like.' Thanks." 5 -- Kimetha
"I love this drive-in... The staff is kind and courteous and are pretty laid back. It's never too crowded. They have good prices on their food. And where else can you go watch 2-3 movies a night for 6 dollars a piece. It's an awesome deal and wonderful for my entire family. They even have some kids nights where it's only kids friendly movies, which is great for my 1 1/2-year-old." 5 -- Natasha Sexton
"We love going to the drive-in! A lot better than the movie theatre! This drive-in is the best! They show great movies and the people are extra nice! Keep up the good work!" 5 -- Amanda

Click here to see the 1991 USGS map depicting the drive-in and surrounding area.
Click here to see an April 1998 aerial photograph of the drive-in.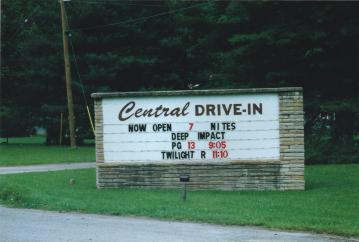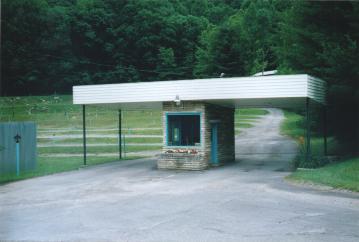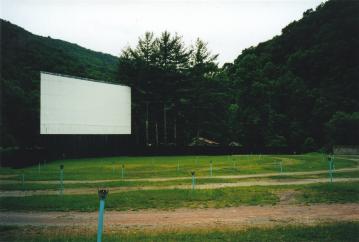 Nestled in the Jefferson National Forest, the Central Drive-In. Photos taken June 1998.