Warner's Drive-In

location
US 220 north of Franklin, W. Va.
telephone
(304) 358-3680

year opened
1952
capacity
about 300 cars
booking policy
single features on Fridays and Saturdays
sound
FM stereo
admission
$5; 12 and under free

operating season
May-September
website
none
email
warnersdrivein@citynet.net


What's Playing click on a title for info
TITLES & TIMES SUBJECT TO CHANGE

| | |
| --- | --- |
| CLOSED FOR SEASON | |


Local Weather • Get Directions


---

Rate/comment on this drive-in
If you've been to Warner's and would like to share your opinions, click here.

Average rating: 4.84 <! 218> (45 votes)
"I love going to the drive-in! It is a great place for children and even adults to go and enjoy a wonderful movie that is PG or PG-13. The food is amazing and everything there is clean and sanitized. Great way to spend a night at the movies without paying a lot of money. (=" 5 -- Skylar
"I met the First love of my life at the snack bar in early 1970, prior to graduation. We broke up five months later. I have been going to that drive-in for over 50 years. Though times have changed, going to the drive-in has not. It's one of only two local ones left." 5 -- Danny J.
"Just wish they would get movies for us families that don't have kids & would just enjoy getting out to the drive-in to see a good movie....been going to this drive-in since the 50's and so far this year haven't seen a movie that interests me." 4 -- Karen
"I went there over the weekend and I have to say that that place is awesome, just to get out with your family/friends and spend time with them. Warner's drive-in is the place to do that at... :)" 5 -- Cilla
"Being a local youth, i can say that the drive-in is the place to be on the weekends, we all go and hang out and get a mini car show. All the nice rides are shined up just for this purpose, i recommend it to everyone :)" 5 -- Chris Mcdaniel
"I love going to the drive-in in Franklin. It is a great place to catch a movie at the luxury of your own vehicle. I am glad that we are able to enjoy a drive-in like the older days! " 5 -- Beka
"The drive-in is one of the best places I have been to, and it is not because you get to sleep during the movie but you can hang out with your friends." 5 -- Ron
"Thanks for another wonderful summer...see ya next year!" 5 -- JW and Carrie
"Overall, the service here was SPLENDID! The movie was good quality, and an overall fun experience for me and the kids. The food at the snack house was WONDERFUL! Good quality, great taste! The only reason I only give it a 4 out of 5 is due to lack of crowd control (there was a younger couple making out in their car that was parked right in front of me and my kids). However, still a very enjoyable experience!" 4 -- LeRoy
"I love this drive-in. You can't beat the entertainment and food you get for the price. Wish more drive-in's would make a comeback. Also miss double features. My kids love it, they usually get to see all their friends there. I even go alone. A drive-in is a great thing!!!!!" 5 -- Virginia
"Warner's drive-in is SUPER KEWL. I LUVVV dat place! It's the kewlest. I love to go with all my friends, esp. Sheldon Evick because he's my bff! To all you peeps wanting to go- DO IT!! Super kewl. The kewlest." 5 -- Laurel Beatty
"I have been coming to this drive-in since I was too young to remember. Now 38 years later I drive down at least a couple weekends a summer (passing another drive-in along the way) so that my boys can see what true small town atmosphere and hospitality really feels like. There is not a time that we have been there that the staff was not extra friendly and my boys didn't meet and end up playing with someone new. I gotta say I miss the cartoons and double features but progress does have its casualties. I would rather see that go than the whole drive-in.
"Warner's and the hometown people that run it are a testament to what makes everything better in Pendleton. Folks have held to the values and morals instilled in them over generations. If you get a chance to visit the drive-in, plan a weekend and see the scenery that the county has to offer. You won't regret it!
"Good movies, awesome food, and great people! What a memory that makes." 5 -- Darrell P.
"It is not necessarily the movie that gives the drive-in a 5 rating. It's the food, the small town atmosphere, the socializing, the friendly staff, and then the movie :) We can't wait until they open every May!" 5 -- Joy
"Saw The Other Guys on the last day of the 2010 season. Great staff, great concession crew. The picture and sound quality is truly the best! The Theatre is on the side of a hill making every parking space a good seat. Even though it was the last day of the season, the theatre had a good size crowd. Warner's Drive-In is worth traveling the extra distance to see a movie." 5 -- Ralph
"I had recently moved into the area and when I heard about Warner's on the internet, I just had to go there! The overall experience there was FANTASTIC! I came hungry so I ate a lot of food from the snack bar. The food was great and VERY reasonably priced! I loved the fact that the audio was broadcast over the radio, made it very convenient! The overall atmosphere of the place was wonderful! I would highly recommend Warner's Drive-In to anyone who wants the good old fashioned drive-in movie experience!" 5 -- Robert B
"Our family had a wonderful evening at the drive-in. The food was great and the movie was very clear and easy to watch." 5 -- Nick
"I'm really glad that there are still drive-ins open and up for business. This drive-in shows good movies that have great turn-outs and the prices are excellent. Everything is clean in the concessions stand and the food is really good. I'm really proud to have a place like this close to where I live!" 5 -- Kathleen Kile
"I love this place! Such a great deal and environment. Wish I could go more often! :)" 5 -- Amber Blagg
"I love the drive-in, the price is good and the people working there are so nice. I would much rather go to the drive-in with kids than be cooped up in a building at the theater watching a movie. Love it!" 5 -- Barbara
"Really awesome drive-in! Great prices too!" 5 -- Jessica
"We live just over the mountain in Virginia and thought this would be a great experience and it was! The atmosphere is incredibly friendly and family oriented. The food is great and the people working the concession are so nice and friendly. The audio was very good and we really enjoyed watching the movie outside. This is a must visit! Yes, we will be back again and again!" 5 -- Chris
"We love going to Warner's drive-in!! It is a wonderful place to enjoy a good movie and food!! The admission price is reasonable and so are the food prices! We travel close to an hour each way to enjoy this drive-in. When friends ask what we did on Saturday night and we tell them we went to the drive-in they are always envious!" 5 -- Pocahontas County
"Great place to take the kids or just the adults to watch a movie on the week-end. Nice place with nice people running it, good prices also." 5 -- Barb
"I really like the Warner's Drive-In very much. I only wish that the Drive-In would be open on Sunday nights and that they would show two movies instead of one on Friday Saturday Sunday. I think this place is great." 4 -- David Hughes
"Great place to be in the summer. Very reasonable prices especially if you have a larger family. My children enjoy it very much and look forward to the next year. Sure do hope it stays open for many many more years. The food at the snack bar is great. Can't beat that drive-in popcorn!" 5 -- Melinda D.
"I love going here, we have been coming since our daughter was 6 months old (about 2 years!), great way to get to the movies when you have a small child. Excellent food and the price is so good you can go every weekend. Definitely beats the pants off a regular movie theater!" 5 -- Robin
"This is the greatest drive-in!! It is worth the drive." 5 -- Katie R
"It's a good place to take your family on a Fri or Sat night...it's affordable and the food is good...plus they show pretty good movies..." 5 -- sandee m
"My family loves going to this drive-in. Good food and good times." 5 -- Thomas Schmidt
"I enjoyed the drive-in. It is such a great place to take your children. I remember going to the drive-in when I was a child. Now that I am older with children of my own I can give them the same experience I had. I just wish they had the old speakers instead of the radio." 4 -- Amy K
"Great price, and great food, picture seems a little washed out perhaps due to a lot of lights from businesses and residents around the drive-in." 4 -- Jackie
"Very Family Friendly! Site was clean! Snack Bar AWESOME! Can't wait to return again!" 5 -- Lisa Tate
"You could not find a better way to spend your entertainment money! This is a great way to spend quality time with family and friends. If ever the opportunity presents itself please go see a movie and have a great drive-in meal from the snack bar. This is a super bang-for-the-buck establishment!!!!" 5 -- Michael Arbogast Sr.
"Good fun for the Family when they have family movies on." 4 -- J.D.
"It is a bit of a drive to get the drive-in but it is worth it! I am glad to be able to share something with our children that I shared with my parents growing up. The food is really good and the prices are very reasonable. I wish it was double feature though." 5 -- Pam Long
"It is a bit of nostalgia with modern technology. My children look forward to a night at a flik and soft pretzels and popcorn." 5 -- Cine
"Last drive-in around. I think they should bring back more. There's nothing better than sitting out under the stars on a warm summer's night watching a movie." 4 -- Terry Borror
"This is a great place for the family to come to. As a kid we would always enjoy the drive-in on weekends. I am so glad this one continues to be in operation so I can share this experience with my own children today. I just wish they still had double features. Thanks!!" 5 -- Judy Mullens
"Was very crowded for Shrek 3 this past weekend. Did not go, but looking forward to a summer of outdoor fun. Good concession stand, screen could use a new coat of paint, as of last summer (2006)." 5 -- Jack Drago
"Warner's is a great place to take the family. We really enjoy it. KEEP UP THE GOOD WORK" 5 -- Jason Kyle
"I love the Drive-in. It's soo much more fun than the theatre. Picture and sound is great and there is room where you can sit out and enjoy the movie instead of just sitting in your car. Food is good too!" 5 -- Jen
"THE SOUND COMES THROUGH YOUR RADIO SO YOU CAN LISTEN AS LOUD AS YOU LIKE WITH YOUR WINDOW UP OR DOWN. THE FOOD IS GOOD, THE LINE IS LONG SO YOU HAVE TO GET THERE EARLY TO GET FOOD AND A GOOD SPOT TO PARK. LOTS OF PEOPLE COME FROM DIFFERENT TOWNS AND DIFFERENT STATES TO THIS DRIVE-IN SO IT GETS PACKED ESPECIALLY IF THEY ARE SHOWING A CHILDRENS MOVIE." 5 -- Amy H.
"Great drive-in. Good picture, excellent sound. No better place to be on a weekend night with the family." 5 -- Rachel Kisner
"I love going to your drive-in! It is so much fun and we can bring our kids. They have fun too." 5 -- Kelley Bosley

Click here to see the 1981 USGS map depicting the drive-in and surrounding area.
Click here to see a 1990 aerial photo of the drive-in.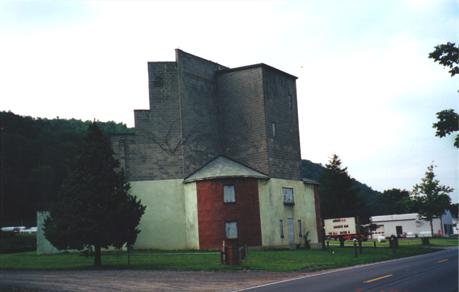 WHAT is THAT? Ohhhh...it's a drive-in screen! Cool!

No cash register -- no kidding! Pencil and pad are used to compute prices.

Suspended from the reels: a '60s "Drizzle Guard" ad. Hey, these guys recognize their history.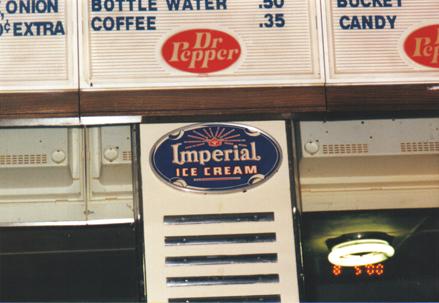 Hidden behind the present menu board. Probably as old as the drive-in itself...

Ditto. The old-fashioned carbon-arc lamp produces a great picture, by the way.